You get so much more: 25% more propane with 
Tank Taxi .  
20 LBS fill level instead of 15 LBS like most other
exchange companies and big box stores.  
(Scroll down to see approximate delivery map areas)
We offer the following services:

Bottled Gases Exchange Delivery Service: (see below for service areas and how it works)
Bottled Gases Service for Grilling, Aviation, Welding, Brewery, Winery, Soda Bar, Food Packaging & Parties, etc.
Patio Heaters for Commercial and Residential rental (restaurant patios, patio-parties, weddings etc.)
Construction Heaters
Tent Heaters
$5 Daily Equipment Rentals for the following equipment: with 30+ days prepaid. 
Patio Heater
Gas Fire Pit
How does a propane tank exchange delivery work?
Easy! If you can shop online, you can order a tank exchange. 
Hover your mouse arrow over the "Shop" menu at the top of this site, select "Propane".  (On a smartphone, first tap the menu box which has 3 grey lines in it, located at the top right corner of the page.) Then simply select your desired tank size on the Propane Tank Exchanges page (for example a 20 LB tank is a typical BBQ tank). 
Complete your secure online purchase by following the instructions through the check out process. (If you have specific instructions such as door codes etc, drop us a line using the "Contact Us" link above)

Leave your empty tank at your front door (or other safe, accessible location) for our delivery driver to swap with a freshly filled tank. Delivery windows are 3-5 business days or less, Monday-Thursday.
Come home after work and heat up the BBQ for some of your famous grilled steak/burgers/hot dogs/brats/veggies and

actually NOT run out of propane

right in the middle of it because you forgot to get the tank filled! Relax and enjoy!
What if I don't own a propane tank?
On the "Shop" menu at the top of the page, select "Tank / Bottle Deposit", select which tank you want, a 20LB propane tank is usually used for BBQ. (On a smartphone first tap the menu box which has 3 grey lines in it, located on the top right corner of the page.)
Then, select "Propane"  from the "Shop" menu and add the matching tank exchange (in this case, a 20LB propane tank exchange) to ensure your bottle comes filled with propane. 
Follow the checkout instructions and you're golden! If you need to provide instructions on where to leave the tank or door codes for access, use the "Contact Us" link at the top of the page. Be sure to include

the same name and phone number provided during check out

 so we can match the instructions to your order.
Propane Tank Exchange Delivery to Most Cities within the following Counties and areas:

(Call or e-mail us to verify delivery availability to your specific city if your county is not listed below or you're just not sure.)
Delivery to All of Washington D.C. 
Northern Virginia:

Areas not shaded in red are within delivery range.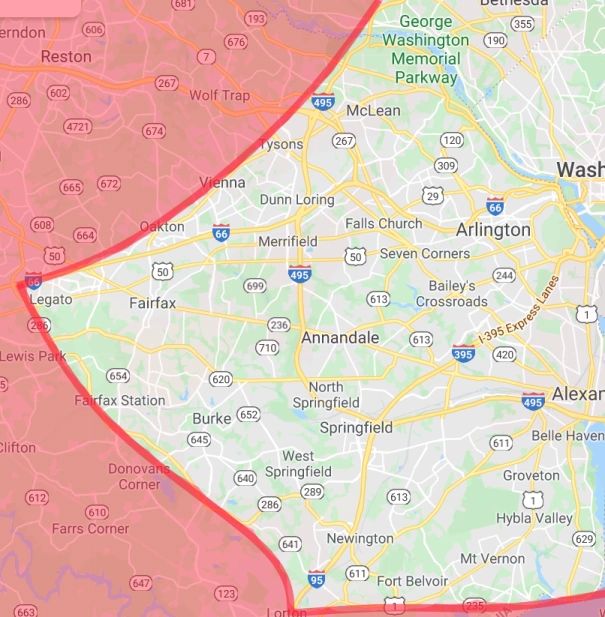 Maryland: 
Baltimore County (see map below,
areas not shaded in red
are within delivery range) 
Charles County, Prince George's County, Frederick County**, Carroll County, Montgomery County, Howard County, Anne Arundel County, Calvert County, St. Mary's County. 
** Delivery range for Frederick County ends in New Market, no delivery available West/Northwest/Southwest of New Market at this time. 
Delivery is available along the immediate outlying areas neighboring the I-95 corridor Northeast of D.C. & Southwest of Baltimore.